See Orignal Post @ Nulled.Org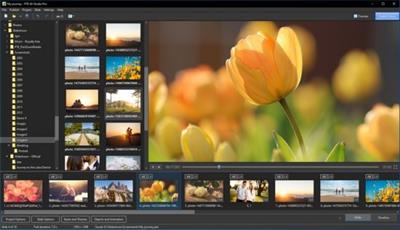 WnSoft PTE AV Studio Pro 11.0.9 Build 1 Multilingual
Windows x64 | File size: 118.89 MB
Create professional photo slideshows in PTE AV Studio Pro (PicturesToExe). Add photos, video clips and music. Use Keyframe animations and Slide Styles. Edit audio clips in the Timeline view. Output for PC, HD and 4K video, mobile devices.
For Enthusiasts and Professional Photographers
PTE AV Studio 10 offers you full creative control for your projects. Use the timeline view for perfect synchronization of slides with audio clips on multiple tracks. Powerful keyframe animations with effects. More than 125 templates/styles of animations will help you to easily create your slideshow.
Pan, Zoom, Rotate, 3D
Adjust pan, zoom, rotate, 3D transformations.
Control opacity, blur, unsharp mask, and color effects.
Nested Animation
Create complex parent-child animation of objects.
Images and Video Clips
Mix images and video clips together on the screen.
Timeline View
Add and view multiple audio tracks which may be played simultaneously. Synchronize slides with audio clips on the timeline using time points. Link audio clips with slides.
Audio Editor
Envelope tool (keypoint control of sound volume). Edit audio clips: fade in/out, start time, duration, cross-fading.
Objects
Add images, video clips, text captions, masks, interactive buttons and more.
Keyframe Animations
Keyframes work like waypoints. Add first keyframe and adjust position and size of an object. Add last keyframe and adjust the final position of an object and its parameters. PTE AV Studio will animate the object between these keyframes using pan, zoom, rotate etc.
Color Adjustments
Adjust the brightness, contrast, levels, hue, saturation of an image/video. Apply a sepia effect and other color filters. Support of color profiles.
Image Adjustments
Crop images and videos, add beautiful white frame and drop shadow. Apply dynamic blur effect. Use zoom in a frame. Apply masking effect.
Color Management
Support of Adobe RGB monitors in preview and executable shows.
Executable Shows for PC
PTE AV Studio allows you to create slideshows as executable files for PC and Mac.
The highest picture quality is possible, because PTE AV Studio uses original images from the project. Smooth playback of animations synchronized with a monitor refresh rate. Automatic or manual slide advance. Interactive objects with actions. Instant creation of executable files.
Slide Styles and Transitions
125+ customizable slide styles, themes and transition effects. Each slide style allows you to easily adjust several parameters of animation. Create new slide styles, themes and transitions and share with other users.
Text Captions
Add text captions with animation. Create text macros from EXIF metadata and apply to all or selected images.
https://www.wnsoft.com/en/pte-av-studio/whats-new-11/
OS:
Windows 11, Windows 10, Windows 8, Windows 7. Only 64-bit
Homepage
https://www.wnsoft.com/
rapidgator.net
:
uploadgig.com
:
nitroflare.com
:

We need your support!
Make a donation to help us stay online
        


Bitcoin (BTC)


bc1q08g9d22cxkawsjlf8etuek2pc9n2a3hs4cdrld
	


Bitcoin Cash (BCH)


qqvwexzhvgauxq2apgc4j0ewvcak6hh6lsnzmvtkem



Ethereum (ETH)


0xb55513D2c91A6e3c497621644ec99e206CDaf239



Litecoin (LTC)


ltc1qt6g2trfv9tjs4qj68sqc4uf0ukvc9jpnsyt59u



USDT (ERC20)


0xb55513D2c91A6e3c497621644ec99e206CDaf239



USDT (TRC20)


TYdPNrz7v1P9riWBWZ317oBgJueheGjATm