See Orignal Post @ Nulled.Org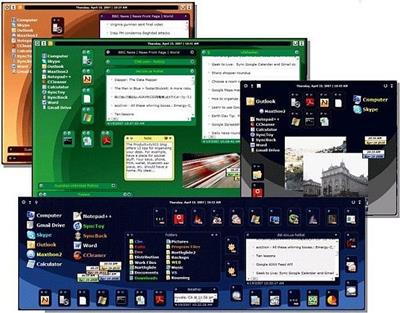 SideSlide 5.78
File Size : 1.1 Mb
SideSlide is a feature-packed desktop launcher which allows you to organize a bunch of tools in a customizable working environment, such as a folder container, notes and file shortcuts. It is designed to all users who are looking to personalize their desktops.
This piece of software has a portability option available in the installation procedure. Therefore, you can save SideSlide on a removable device (e.g. USB flash drive), store it on any computer and directly run its executable file. In this case, no items can be found on the hard drive or in the Windows Registry after app removal. Moreover, you can always have SideSlide with you when you're on the move.
The interface of the program is based on a stylish layout where you can lock/unlock the workspace for editing, as well as shrink/expand and fold/unfold all containers.
By opening the context menu, you can access a wide range of features. SideSlide allows the creation of containers (file or directory shortcuts, web URL, system command), folder containers, RSS news feeds, notes, reminders and pictures.
Each of these elements can be detached from the workspace area and includes its own set of configurable settings. For instance, you can submit RSS news feed, note and shortcut containers to a library, start slideshows from pictures, and choose container icons.
Some customization properties are available when it comes to the appearance of the items (change the background colors). Plus, you can edit tags and alter SideSlide settings (e.g. explode/implode effect, special effects, floating toolbar, minimize to system tray).
SideSlide requires a moderate amount of CPU and system memory, has a good response time, supports keyboard shortcuts and includes helpful tips. No error dialogs have been shown in our tests and SideSlide did not freeze or crash. Thanks to its intuitive layout and rich features, SideSlide can be handled by both first-time and experienced users who want to better organize their tasks.
FEATURES
• Instantly accessible and adjustable workspace that stays out of your way until you need it
• Add multiple shortcuts, commands, URLs, RSS news feeds, pictures, reminders and notes
• Resizable, detachable, foldable and shrinkable containers extend the workspace beyond the limits of the screen. Mouse & keyboard support with a full-blown keyboard launcher and directory navigator
• RSS news feed functionality allows you to track what you are interested in the most
• Keep your eyes on multiple picture slideshows that are easily added
• Floating, colorful notes are quickly created and adjusted in bulk or separately
• Shortcuts can be tagged for additional functionality and organization
• Various ways of launching multiple shortcuts with a single click
• Link containers to actual folders on disk (launch, move, copy and delete files)
• Shortcuts, URLs, text and pictures from Windows or your browser can be dragged & dropped in the workspace. -A growing online library with ready made RSS news feed and shortcut containers
• Every style and setting in the entire program and for each individual object can be customized
• Fancy special effects that don't slow you down
• Comes with multiple themes and wallpapers and you can also define your own style
• Supports portable setup and the ability to load objects from a relative path
http://www.northglide.com/sideslide_changelog.html
Homepage
http://www.northglide.com
Download linkrapidgator.net
:
uploadgig.com
:
nitroflare.com
:

We need your support!
Make a donation to help us stay online
        


Bitcoin (BTC)


bc1q08g9d22cxkawsjlf8etuek2pc9n2a3hs4cdrld
	


Bitcoin Cash (BCH)


qqvwexzhvgauxq2apgc4j0ewvcak6hh6lsnzmvtkem



Ethereum (ETH)


0xb55513D2c91A6e3c497621644ec99e206CDaf239



Litecoin (LTC)


ltc1qt6g2trfv9tjs4qj68sqc4uf0ukvc9jpnsyt59u



USDT (ERC20)


0xb55513D2c91A6e3c497621644ec99e206CDaf239



USDT (TRC20)


TYdPNrz7v1P9riWBWZ317oBgJueheGjATm