See Orignal Post @ Nulled.Org
Download Windows 10 PRO/WS/ENT x64 GX Trinity Duo v.21.05.20 with high speed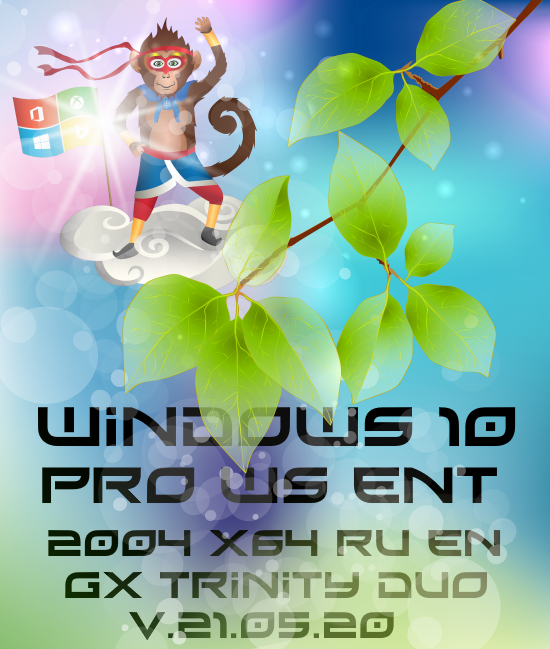 Windows 10 PRO/WS/ENT x64 GX Trinity Duo v.21.05.20 | 3.61 GB
Basis - VL images c MSDN.
en_windows_10_business_editions_version_2004_x64_dvd_d06ef8c5
The distribution of two images - Russian and English, each in three editions - Pro, Pro WS, Enterprise.
Cut almost all UWP-application - there is a shop, Edge Chromium.
Off telemetry.
Windows-Defender is turned off by default, but can be switched on / off - Start-spets.vozmozhnosti menu (result after a reboot).
Search works, hidden icon.
Auto-activation. (AAct v4.1)
Imaging - DISM.
Cut OneDrive.
Added wallpaper.
After installation, start checking for updates to install the drivers.
cumulative updates are installed on the assembly.
There should be a clean install.
wiki
Off a security alert for downloaded files.
Disabled notification UAC (user to a group of administrators).
In the setting of the power mode is enabled - high performance.
Do not turn off the display and does not go to sleep when on AC power.
Off GAME DVR / Xbox Game Bar.
Off ContentDeliveryManager.
Using the latest .NET Framework 3.5 instead. (If you need .net 3.5, after its inclusion in the components, you need to apply tweaks to old programs)
In the Start menu [Explorer] opens [This computer]
Returned functionality F8 key at startup to enter Safe Mode.
In the context menu of files and folders added to the team - [copy to / move to folder].
the default windows photoviewer enabled to view photos.
Off history of open files and folders.
Off automatically reboot when BSOD.
Off automatic driver installation (via driver updates are installed the center).
Off custom folders from the location "This Computer" in Windows Explorer
Off Auto Search Update - runs manually.
Exiting Sleep without requiring a password (for the request need to leave the system \ block) to tweak vkl.zaprosa
Off audit logs and system security.
Off reserved storage of 7 gigabytes.
Avtoprosypanie off at night.
Automatic installation programs
winrar 5.9
Installing XBOX
set Xbox Identity Provider himself XBOX.
tweak for inclusion GAME DVR / Xbox Game Bar
and install Xbox Game Bar
Install OneDrive
OneDrive
Stage of development: Release
Year / Release Date: 2020/21/05
Version: 2004
prog_build: 19041.264
Developer: microsoft
Developer website: www.microsoft.ru
Bit depth: 64bit
Language: English + Russian
Medicine: Present
System requirements: Processor: - At least 1 GHz processor or SoC.
RAM - 2 GB.
Hard disk space: - 20 GB.
Video adapter: - DirectX version 9 or later with the driver WDDM 1.0.
Display: - 800 x 600
Download Windows 10 PRO/WS/ENT x64 GX Trinity Duo v.21.05.20 with high speed
Popular Tags:
free Windows 10 PRO/WS/ENT x64 GX Trinity Duo v.21.05.20, Downloads Windows 10 PRO/WS/ENT x64 GX Trinity Duo v.21.05.20, RapidShare Windows 10 PRO/WS/ENT x64 GX Trinity Duo v.21.05.20, Megaupload Windows 10 PRO/WS/ENT x64 GX Trinity Duo v.21.05.20, Mediafire Windows 10 PRO/WS/ENT x64 GX Trinity Duo v.21.05.20, DepositFiles Windows 10 PRO/WS/ENT x64 GX Trinity Duo v.21.05.20, HotFile Windows 10 PRO/WS/ENT x64 GX Trinity Duo v.21.05.20, Uploading Windows 10 PRO/WS/ENT x64 GX Trinity Duo v.21.05.20, Easy-Share Windows 10 PRO/WS/ENT x64 GX Trinity Duo v.21.05.20, FileFactory Windows 10 PRO/WS/ENT x64 GX Trinity Duo v.21.05.20, Vip-File Windows 10 PRO/WS/ENT x64 GX Trinity Duo v.21.05.20, Shared Windows 10 PRO/WS/ENT x64 GX Trinity Duo v.21.05.20,