See Orignal Post @ Nulled.Org
Crisis Leadership: Leading In Tough Times
Published 9/2023
MP4 | Video: h264, 1280x720 | Audio: AAC, 44.1 KHz
Language: English | Size: 646.80 MB | Duration: 0h 33m

Leadership through crisis using inspirational management techniques
What you'll learn
Practical tools and techniques to help you become a better leader
Spotting different personality types
Tools to help you define a vision that inspires and unites your team
Creating an ensemble mentality where every team member understands their role and contribution to the group
Assigning people tasks based on their individual strengths and weaknesses
Learning what you as a unique individual can bring to the table and how you make a difference
Transform challenges into opportunities for growth and innovation
Discover the importance of sacrifice and celebration
Requirements
No previous equipment or experience is needed
Having some examples in mind of situations you'd like to change in your life would be helpful
A willingness to learn!
Description
Crisis Leadership: leading in tough timesLeadership through crisis using inspirational management techniquesMaybe you're staring down the barrel of an economic downturn, just received news of an upcoming disruptive industry change, or a threatening competitor is about to open its doors. Whatever the challenge, this course will reframe your outlook to have a lasting positive impact as an inspirational leader.This practical course will give you the insight required to manage and motivate your team through tough times with confidence - whether you run a sole trader or an international corporation. Featuring real-world examples, this course will ensure you weather tough times, and even transform challenges into opportunities for growth.Unlike other change/crisis management courses this course is closely focused on the leader's state of mind and how to handle the relationships and mindsets of team members. It is particularly geared toward finding a vision, connecting with others and having a lasting positive impact as a courageous and inspirational leader. Nigel looks at leadership from a Psychological perspective (of which he has a PhD) and covers leading in general; whether you're a CEO, a Team Leader, a Business Owner, even as the head of a family... anyone who needs to lead!We'll delve into the backbone of any good company - its people. We'll discuss the different personality types you might find on your team and how each of these can be leveraged to handle any obstacle. We'll look at how creating a cohesive vision for your business can pull everyone together and why you shouldn't ignore your failures. This course will allow you to implement a culture of purpose, innovation and adaptability.The course overview includes:Practical tools and techniques to help you become a better leaderHow to spot different personality typesTools to help you define a vision that inspires and unites your teamCreate an ensemble mentality where every team member understands their role and contribution to the groupFind it easy to assign people tasks based on their individual strengths and weaknessesLearn what you as a unique individual can bring to the table and how you make a differenceHow to transform challenges into opportunities for growth and innovationDiscover the importance of sacrifice and celebrationIf you are ready to make practical changes and become a better leader this course is for you!Nigel Nicholson is the Professor of Organisational Behaviour at The London Business School and is the Author of multiple award winning books; the most relevant to this course being 'The "I" of Leadership'. He has a PhD in Psychology and has spent decades studying, analysing and lecturing on the subject of Leadership; you'd be hard-pressed to find someone more qualified than Nigel on the subject!By the time you finish this course, you'll be able to guide your organisation through any difficult period of change. As well as understanding the emotional needs of your colleagues, you'll be adept at assigning them roles that are best suited to their strengths and personality types. You'll find it easy to reframe a tough situation and navigate your way to a positive outcome.If you dream of confidently leading your organisation towards a brighter future, fostering a culture of resilience, positivity and innovation then this is the course for you.
Overview
Section 1: Leading in Tough Times - Welcome
Lecture 1 Leading in Tough Times
Section 2: Are You a Manager or a Leader?
Lecture 2 Meeting the Challenge
Section 3: Transforming Disaster
Lecture 3 Transforming Disaster
Lecture 4 Reframing Tough Times
Lecture 5 Leading with Others
Lecture 6 The Narrative Approach
Section 4: 6 Important Rules
Lecture 7 Rule 1 - It's About the People
Lecture 8 Rule 2 - Be Aware of Individual Differences
Lecture 9 Rule 3 - Create a Narrative
Lecture 10 Rule 4 - Create an Ensemble Mentality
Lecture 11 Rule 5 - Sacrifice and Celebrate
Lecture 12 Rule 6 - Look After Yourself
Section 5: Conclusion - Leading in Tough Times
Lecture 13 Conclusion - Leading in Tough Times
Business owners that wish to thrive in turbulent times,Those that want to enhance their leadership skills,Managers who want to forge strong relationships with their colleagues,People that want to inspire their team
Screenshots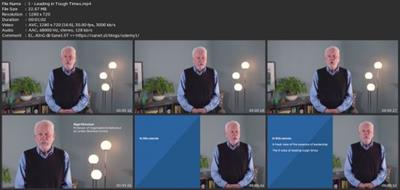 Download linkrapidgator.net
:
uploadgig.com
:
nitroflare.com
:

We need your support!
Make a donation to help us stay online
        


Bitcoin (BTC)


bc1q08g9d22cxkawsjlf8etuek2pc9n2a3hs4cdrld
	


Bitcoin Cash (BCH)


qqvwexzhvgauxq2apgc4j0ewvcak6hh6lsnzmvtkem



Ethereum (ETH)


0xb55513D2c91A6e3c497621644ec99e206CDaf239



Litecoin (LTC)


ltc1qt6g2trfv9tjs4qj68sqc4uf0ukvc9jpnsyt59u



USDT (ERC20)


0xb55513D2c91A6e3c497621644ec99e206CDaf239



USDT (TRC20)


TYdPNrz7v1P9riWBWZ317oBgJueheGjATm