See Orignal Post @ Nulled.Org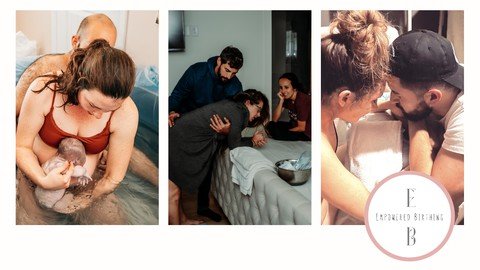 Free Download
The Essence Of Birth – Your Guide To A Fearless Birth
Published 9/2023
MP4 | Video: h264, 1280x720 | Audio: AAC, 44.1 KHz
Language: English | Size: 2.22 GB | Duration: 2h 1m
Practically prepare the whole YOU -body, mind, heart - for a shorter, less painful, less fearful birth.
What you'll learn
How to face your fears and step into birth with confidence and courage
Learn about the power of mindset and use it to create a clear (positive) vision for your birth
Identify practical ways to prepare your heart, body, mind for birth specific to your personality and preferences
Understand each stage of labor and the coping techniques that help in each stage
Discover how to advocate and use your voice in pregnancy, birth & postpartum
Gain clarity on the essentials of labor to feel empowered, in control, and confident stepping into your birth
Requirements
Ready to dispel the fears and uncertainties that come with pregnancy & birth
Hungry for practical guidance
Curiosity about birth
Description
The Essence of Birth Course is like having a doula with you at every step and stage of labor so you can have a less painful, less fearful, shorter birth. You'll step into birth with greater confidence and courage with this essential and practical guidance for the whole you - body, mind, heart. Let your birth tell a beautiful and empowered story with the Essence of Birth Course as your guide. The course is divided into 3-5 minute videos, allowing you to view it all at once or refer to the areas you need in the heat of the moment in labor. The guide you create during this course will include personalized coping techniques to help you navigate each stage of labor -- early labor, active labor, pushing, immediately postpartum. The 22-Video Course includes topics: Overcoming the fear of birthThe power of mindset and mindfulnessPreparing your mind, body, heart for laborEarly, Active, Pushing stages of laborIdeal coping techniques for each stage of laborThe value of creating rhythms in laborPractical ways to prepare for laborThe Course also include a wide array of extra videos on topics such as: cervical checks, c-sections, breastfeeding, inductions, and more (just in case you need them).Advocating in LaborTime in LaborCervical ExamsInductionsC-SectionsImmediately PostpartumPain vs SufferingExpectations vs RealityBreastfeedingYou'll have access to a downloadable version of all the coping techniques and tools to help you take action and prepare – your mind, body, heart– for birth in very practical ways Why moms love it"It has everything in one place""I love having a 'plan' to reach for in labor""I'm so happy it helps my partner feel more confident in supporting me with this practical guide"Why dads love it"It's short and to the point""Honestly, I haven't read nearly as much as my partner, having this is beyond helpful.""I used it in the middle of labor when I didn't know how to help but wanted so badly to be helpful"Hi there, I'm EmaEncouraging women to trust and believe in their body and its ability to intuitively and naturally birth their baby brings me such joy.The empowering feelings of confidence and courage that comes with the experience of birth few experiences can match.Having had my own personal journey of empowerment–finding courage and confidence despite my own fears in birthing my three children–awakened a desire and passion in me to share that with as many moms as I possible can; and I have over the past 10+ years as a birth doula.
Overview
Section 1: The Essence of Birth
Lecture 1 Welcome to The Essence of Birth
Lecture 2 Introduction
Lecture 3 My Story
Lecture 4 A Culture of Fear
Lecture 5 Your Brain in Labor
Lecture 6 The "Orgasm Mindset"
Lecture 7 Let's Get Practical
Lecture 8 5 Rhythms
Section 2: Stages of Labor
Lecture 9 Early Labor
Lecture 10 Active Labor
Lecture 11 Pushing
Lecture 12 Making Your Birth Your Very Own
Section 3: Extra Tops for a Fearless Birth
Lecture 13 The Pause: Advocating
Lecture 14 Time in Labor
Lecture 15 Cervical Exams/Checks
Lecture 16 Immediately Postpartum
Lecture 17 Inductions
Lecture 18 C-Sections
Lecture 19 Pain vs. Suffering
Lecture 20 Expectations vs Reality
Lecture 21 Breastfeeding
Section 4: Your Birth Envisioning Session
Lecture 22 Diving deeper with A Birth Envisioning Session
Expecting Moms,Partners of Expecting Moms,Birth Doulas,Anyone thinking of becoming pregnant,Anyone preparing for or doing IVF or Fertility treatment,Anyone ready to birth fearlessly
Homepage
https://www.udemy.com/course/the-essence-of-birth-your-guide-to-a-fearless-birth/

Buy Premium From My Links To Get Resumable Support,Max Speed & Support Me
No Password - Links are Interchangeable

We need your support!
Make a donation to help us stay online
        


Bitcoin (BTC)


bc1q08g9d22cxkawsjlf8etuek2pc9n2a3hs4cdrld
	


Bitcoin Cash (BCH)


qqvwexzhvgauxq2apgc4j0ewvcak6hh6lsnzmvtkem



Ethereum (ETH)


0xb55513D2c91A6e3c497621644ec99e206CDaf239



Litecoin (LTC)


ltc1qt6g2trfv9tjs4qj68sqc4uf0ukvc9jpnsyt59u



USDT (ERC20)


0xb55513D2c91A6e3c497621644ec99e206CDaf239



USDT (TRC20)


TYdPNrz7v1P9riWBWZ317oBgJueheGjATm