See Orignal Post @ Nulled.Org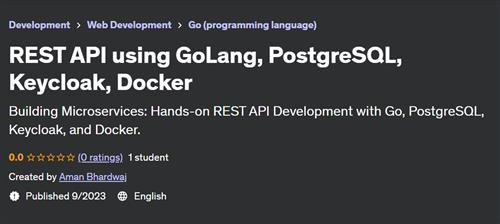 Free Download
REST API using GoLang, PostgreSQL, Keycloak, Docker
Published 9/2023
Created by Aman Bhardwaj
MP4 | Video: h264, 1280x720 | Audio: AAC, 44.1 KHz, 2 Ch
Genre: eLearning | Language: English | Duration: 10 Lectures ( 2h 33m ) | Size: 946 MB
Building Microservices: Hands-on REST API Development with Go, PostgreSQL, Keycloak, and Docker.
What you'll learn
Create REST API using pure GoLang
Learn how to use dependency injection in golang, make your code modular and extendible
Persist everything in the database - PostgreSQL
Explore keycloak for authentication layer
Requirements
Basic knowledge of golang and databases is preferred.
Description
Welcome to the comprehensive hands-on Udemy course, "Building Microservices: Hands-on REST API Development with Go, PostgreSQL, Keycloak, and Docker." In this practical and immersive course, you'll embark on a journey to master the art of creating robust microservices-based applications from scratch using the Go programming language, PostgreSQL, Keycloak for authentication, and Docker for containerization.Course Overview: From a blank folder to a fully functional microservices ecosystem, this course will equip you with the skills to design, implement, and deploy modern RESTful APIs, enabling seamless communication between different microservices. We'll delve into the core concepts of dependency injection, CRUD operations, and database manipulation using Gorm, a powerful Go ORM.What You'll Learn:Setting Up the Environment: Start from scratch and establish your development environment, including Go, PostgreSQL, Keycloak, and Docker.Dependency Injection: Master the art of dependency injection in Go, allowing you to write modular and testable code.CRUD APIs and Database Operations: Learn how to design and implement Create, Read, Update, and Delete (CRUD) APIs, and perform database operations using the Gorm ORM library.Secure Authentication with Keycloak: Implement secure user authentication and authorization using Keycloak, enhancing the overall security of your microservices.Inter-Service Communication: Explore the intricacies of HTTP requests between microservices, enabling seamless interaction within your application.Containerization with Docker: Containerize your microservices using Docker, enabling consistent deployment across various environments.Hands-on Projects: Apply your knowledge to real-world projects, developing a robust microservices ecosystem step by step.Why Take This Course: This course goes beyond just using frameworks by teaching you how to build microservices using the standard Go library, giving you a deep understanding of the underlying concepts. By the end of this course, you'll possess the skills to design, develop, and deploy your microservices-based applications confidently.Don't miss out on this opportunity to become a proficient microservices developer. Enroll now and embark on your journey to mastering microservices with Go, PostgreSQL, Keycloak, and Docker. Start building scalable, modular, and secure applications today!
Who this course is for
Junior to intermediate developers.
Homepage
https://www.udemy.com/course/rest-api-golang-keycloak-postgres-docker/

Buy Premium From My Links To Get Resumable Support,Max Speed & Support Me
No Password - Links are Interchangeable

We need your support!
Make a donation to help us stay online
        


Bitcoin (BTC)


bc1q08g9d22cxkawsjlf8etuek2pc9n2a3hs4cdrld
	


Bitcoin Cash (BCH)


qqvwexzhvgauxq2apgc4j0ewvcak6hh6lsnzmvtkem



Ethereum (ETH)


0xb55513D2c91A6e3c497621644ec99e206CDaf239



Litecoin (LTC)


ltc1qt6g2trfv9tjs4qj68sqc4uf0ukvc9jpnsyt59u



USDT (ERC20)


0xb55513D2c91A6e3c497621644ec99e206CDaf239



USDT (TRC20)


TYdPNrz7v1P9riWBWZ317oBgJueheGjATm