See Orignal Post @ Nulled.Org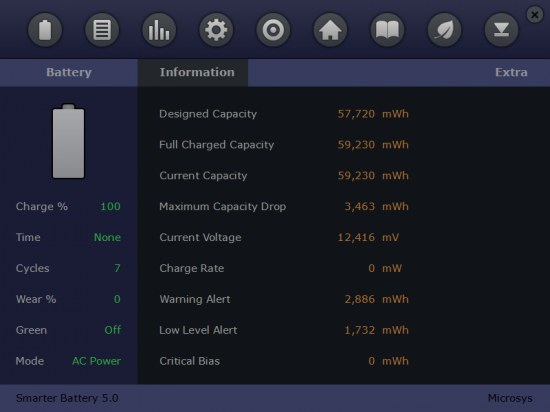 Smarter Battery v7.5 | File Size: 2 MB
Smarter Battery is a battery monitoring utility for portable computers, intended to provide all the data of your battery, to help prolong its life and save its energy. It shows you the evolution of the battery's capacity during the charge / discharge cycles and computes a few important battery parameters, such as the wear level and discharge cycles count. This program continuously reads the battery data, making a prediction for the time remaining; it also features two alarms, for low and critical battery capacity, triggered by either the time remaining or the capacity percentage.
The evolution of battery capacity is graphically displayed for a longer period of time, up to 16 hours, so the complete charge or discharge cycles can be easily visualized and analyzed. Both Calibration and Fast Discharge procedures were updated to perform better on Windows laptops or tablets. Moreover, a battery gadget can be displayed by this utility; it has many format options and offers you a fast, clear view on the current battery's state of charge.
How it works?
The Information page is automatically displayed when this utility is launched and maximized. In the left side fields are displayed a few important parameters of the system battery (this is now common to all pages), while the right side ones contain if fact the general and model information. Above the left panel, there is the Battery # link; the # number, if it's displayed, indicates which battery is currently selected. A click on this link changes the selected pack and all the other information will be updated accordingly. When the application starts, first battery found in your system becomes the current one and it will be used as reference.
The Graph page offers you an easy way to see and understand the evolution of the battery capacity over time. A thick orange line is drawn in a capacity (percentage) vs. time coordinate system for a default interval of 60 minutes. This graph can be saved as jpg picture (automatically named and numbered SBshot1, 2 and so on) by using the Save button. If the battery Mode is Discharging, a thin red line will be displayed in addition; it represents a possible path followed by the battery power, a path which has resulted from the time remaining or which is estimated by the software. For a good battery, this red line should remain parallel with the orange one most of the time, having no big angle changes (drops in capacity).
Whats New:
Redesigned calibration and fast discharge procedures;
Redesigned registration procedures
Larger and simpler interface, enhanced control functions;
Up to four batteries may be registered at a time;
Optimized code for the most recent version of Windows, for both laptop and tablet systems;
Accurate computing of the battery discharge cycles;
An extended period of time added to the capacity vs. time graph;
Brightness control was added to the battery menu;
Minor text and file format changes;
Minor bugs were fixed.
Homepage
http://www.microsys.ro/smarterbattery.htm
https://rapidgator.net/file/efba18226d7e775640a3cfedce425cad/SmarterBattery7.5.rar.html
https://1dl.net/xrzj3p5nc7vn/SmarterBattery7.5.rar.html

We need your support!
Make a donation to help us stay online
        


Bitcoin (BTC)


bc1q08g9d22cxkawsjlf8etuek2pc9n2a3hs4cdrld
	


Bitcoin Cash (BCH)


qqvwexzhvgauxq2apgc4j0ewvcak6hh6lsnzmvtkem



Ethereum (ETH)


0xb55513D2c91A6e3c497621644ec99e206CDaf239



Litecoin (LTC)


ltc1qt6g2trfv9tjs4qj68sqc4uf0ukvc9jpnsyt59u



USDT (ERC20)


0xb55513D2c91A6e3c497621644ec99e206CDaf239



USDT (TRC20)


TYdPNrz7v1P9riWBWZ317oBgJueheGjATm